It was a fishy festive season for all.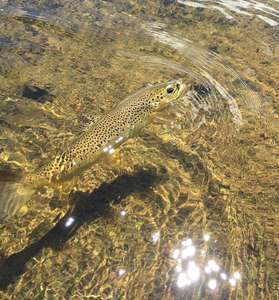 Over Christmas and New Year our officers visited waters all over the State. We did boat and land patrols and saw some fantastic catches including brown and rainbow trout up to 2.3kg!
Standout waters for fishing included:
Woods Lake, where bait, lure and fly anglers did well.
Penstock Lagoon and Little Pine Lagoon with the good mayfly hatches on overcast days pleasing fly fishers.
The Western Lakes where lots of fish were moving. Many were inshore tailing or rising to mayflies, caddis and beetles
Lake Augusta (including both the dam and natural lake) where nice trout were caught with lures on the windy and overcast days. Small wonder wobblers were the best lure according to one angler.
Mersey, Meander and Macquarie Rivers were also good spots for bait fishing following the rain on Friday 30th December. Worms in flooded backwaters seemed to work best.
Talbots Lagoon was also popular, with some great fish being caught on a variety of methods.
In all we checked 207 angling licences and inspected 45 boats. We did issue eight Infringement Notices. Four for fishing without a licence and four for being on the water, in a boat underway, without a lifejacket. We were really pleased to more people wearing their lifejacket.
Trout fishing has rarely been so appealing. So many waters are fishing well and the summertime weather is kicking in. It is a good time for camping with family and friends. There are plenty of fat hungry trout to be caught, and plenty of good campsites around inland waters. Why not take your next trip and make the most of the summer months!