Brown trout waters close for the season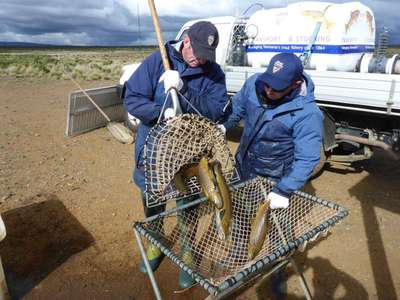 The majority of Inland Waters closed to fishing at midnight last Sunday (1 May) and will not reopen until 6 August 2016.
Didn't get enough fishing time this season?  Well, all is not lost as a number of waters managed for rainbow trout remain open as do lakes Rosebery and Mackintosh on the West Coast.  There are also waters open all year across the State.
Dee Lagoon is a rainbow water with stable water levels, lakes Burbury, King William and Great all remain open but are fairly low at this time, Brushy Lagoon is open however the access road is closed until bridge replacement works are completed.  Other reliable options include Huntsman Lake, the River Derwent below Bridgewater, Lake Barrington, Lake Pedder and the River Tamar.
It is important that the brown trout waters are closed to protect the spawning spawn trout in late autumn and early winter each year. With the recent rain and more forecast this week the spawning run is now on in earnest.  Don't miss out on seeing firsthand at our Trout Weekend at Liawenee, 21 and 22 May.
Full details of closed waters and waters that remain open can be found in the Tasmanian Inland Fishing Code 2015-16 available from the IFS website www.ifs.tas.gov.au