Lake Fergus offers an excellent day walk fishery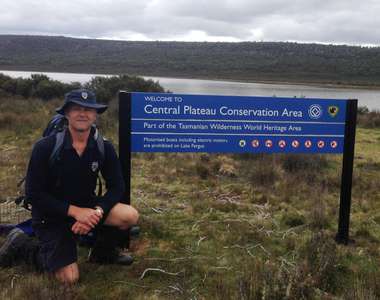 On Tuesday (5 January 2016) Inland Fisheries officers inspected the walking route to Lake Fergus.
The walk starts at the Little Pine Lagoon dam wall car park and follows the north western side of the lagoon and then turns north up the Little Pine River valley to Lake Fergus. The nine km walk took two and a half hours with day packs.
What was surprising to find was on a day when there were 20 boats on Little Pine Lagoon that there were no anglers at Lake Fergus!
Arriving at Lake Fergus at 12.30pm there was good cloud cover and a light north easterly breeze. Fish were still active hard in along the southern shore. A wind change brought on a good dun hatch with fish rising across the lake. The water clarity and levels would be ideal for polaroiding on sunny days.
The return journey took only two hours. With an eight am departure from Little Pine Lagoon it would be relatively easy to have up to six hours fishing at Lake Fergus and still be back at Little Pine Lagoon to fish for tailers on the way back to the car.
Good camping is available around Lake Fergus if an extended trip is planned. Anglers are reminded that Lake Fergus is within the Tasmanian Wilderness World Heritage Area with fuel stoves only permitted. Please follow all minimal impact guidelines and regulations.