Good weather results in increased carp removal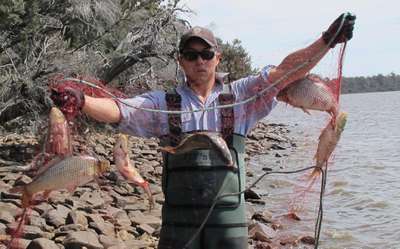 The recent stretch of warm, sunny, settled weather provided the ideal opportunity for targeting carp that were gathering in the shallow sandy shores of Powell's Bay in Lake Sorell.
The IFS carp eradication team shocked a number of carp in close proximity to one another in an intensive electrofishing effort and also set a combination of 4inch monofilament and trammel gill nets. Over a short period 65 carp were caught.
What was interesting was the broad range in size variation of fish, with the smallest fish weighing 329 grams, while the largest fish caught weighed 2251 grams. All fish are believed to be from the 2009 cohort.
This successful event resulted in the capture of not only a large number of the remaining population, but also some key fish which could potentially spawn if conditions were right. We believe that these fished pushed into the warm shallows to feed, as the habitat was not favourable for spawning. Ongoing targeting of favourable sites around the lake will continue.