It's better to tell the truth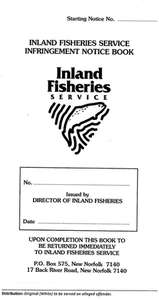 Lachlan John Newett has been fined $1600 plus ordered to pay court costs of $81.09.  On 3 August, he appeared in the St Helens Magistrates court. He pleaded guilty to fishing without a licence and 2 counts of providing false details.
Mr Newett was fishing without a licence at Brushy Lagoon in September last year. When we questioned him he gave a false name and date of birth. We did some investigation and found out who he was.  When we finally caught up with him Mr Newett gave a false name again.
Giving false details is a serious offence.   It is not taken lightly by the courts.  This fine shows us that. Mr Newett wasted valuable time and resources. If he'd had told the truth, the fine would have been $308 for fishing without a licence.