Algal growth in Four Springs Lake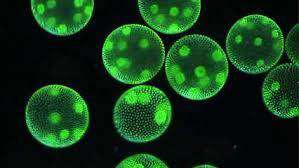 Prior to Easter IFS received a report from an angler regarding the increasing presence of algae at Four Springs Lake.  Significant algal growth could be seen along the shoreline with the densest growth in the south west basin.
Our North West Fisheries Inspector visited the lake and took water samples for testing.  The results of the testing suggest the growth consist of two types of alga; green algae and blue green algae.
Green algae does not usually present a risk to human health; however blue green algae may if in the right form.  Results suggest that this is not the case, however anglers as a precautionary measure should avoid drinking the water or have direct contact with the water for any sustained period.
Any fish captured are safe for consumption.
We will continue to monitor the situation over the coming weeks but the situation should clear once we have shorter days and the weather becomes more unstable.