Brown trout are starting to show in Arthurs Lake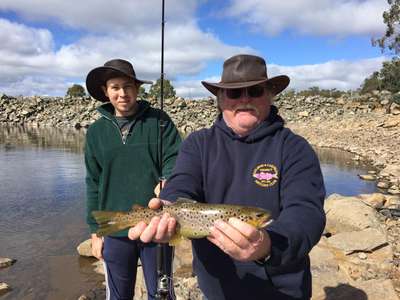 Now we are in the second half of the trout fishing season, the brown trout of Arthurs Lake are starting to show themselves.  Anglers are reporting that they're finding themselves hooked up to quality brown trout ranging from 0.5 to 1.5kg by using a variety of methods including trolling hard body lures, casting soft plastics and fishing with bait.  Our Fisheries Officers are inspecting good catches of fish and bag limit catches have been reached.
Fly fishing reports have been of some fantastic sessions, fishing to good rising fish in the slicks and wind lanes and also during beetle falls from the rocky shoreline.  These fish are fit and fight hard, providing great sport.
Joining those keen fly anglers, on his days off, has been our local Liawenee Fisheries Officer who has also got amongst the action and has been suitably impressed with what is on offer.  He has been successful working the early morning slicks from a boat to keen rising fish.
Keep an eye on the conditions and we recommend that you try and get a few sessions on Arthurs Lake prior to the season's end.