Carp spawning season is about to start and we are prepared!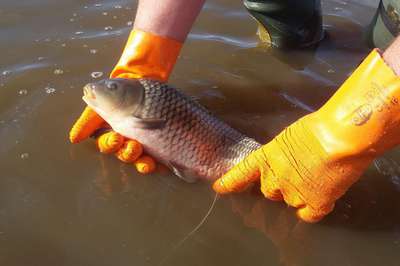 Earlier this month five transmitter carp were released back into Lake Sorell in preparation for the start of the carp spawning season. This brings the total number of transmitter fish in Lake Sorell to 18.
The carp were captured using a monofilament gill net set in Kemps Bay, Lake Sorell and Dr. Andrew Nicholson from the Montrose Veterinary Centre surgically implanted them with radio transmitters at the IFS Lake Crescent Field Station.
It is hoped that these additional fish will lead the Carp Management Team to spawning aggregations this coming season and combined with increased netting effort, bring us one step closer to the complete eradication of carp from Lake Sorell.