Good trout reported from Arthurs Lake round of the Tasmanian Trout Classic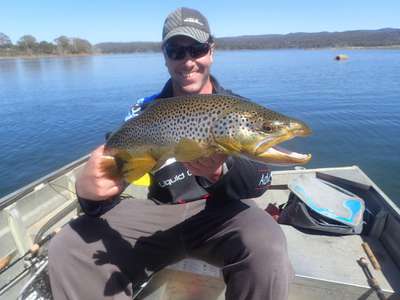 Recently, the Tasmanian Trout Classic Series held its 2nd round of the three round series on Arthurs Lake. In the weeks leading up to the event many of the competitors were to be found searching out new water in the hope of finding that competition winning spot and technique. Quickly a pattern was beginning to emerge… The fish didn't seem to be over the deeper weed beds; rather they were to be found in closer on the shores. While the lack of fish over the deeper weed beds was a little strange, the fish being in close was nothing new – and there were dozens of fish on offer! Better still was the fact that these fish seemed to be the biggest fish I'd encountered on Arthurs Lake for over a decade. I was really excited to see that Arthurs – a water I developed my love of the Tasmanian Highland Trout Fishery on - was back to its prime and fishing the way I remember it so fondly. The countless tiny fish that were teeming in the lake when it was really full a few years back seemed to have all grown up and they were beautifully conditioned fish, full of fight. Each day returning to the ramp I was surprised that to hear that many of the other anglers not competing were struggling to get decent numbers of fish. I firmly believe that this was because they were employing their tried and tested trolling or deep soft plastic techniques over areas that now seem to be devoid of fish. I doubt this trend will continue, but for the time being a shallow running minnow style hard body seems to be the way to get good numbers of fish. Working close into shores with rocks, weed and trees you are bound to find good patches of fish in water from 80cm to 2 meters deep. Another noteworthy tactic is to pause your lure in front of following fish. This is where a suspending or slowly floating lure is a distinct advantage. Add in a couple of twitches on the pause and the fish will usually clobber your offering.
So get back to Arthurs, the fish are in fantastic condition and bigger than they have been for years. If your normal techniques aren't working give the shallow hard bodies a go. Get in close to the timbered shores with weed and rocks. Keep covering water and you won't be disappointed!
Recommended Lures to try:
Liquid Gold Aurum Minnows
Hawk Snipers
Diawa Pressos
Cultiva CT 55
Ecogear MX48 and MW62s
The colours really depend on the day but any of the old favourite trout colours work well. Black and Gold with an Orange belly is always a great starting point but some days purple is a real standout, while on other days you'll have more success with greens. You really just need to experiment on any given day.
Tightlines!
Andrew Pender.