River Derwent fish kill restricted to barracouta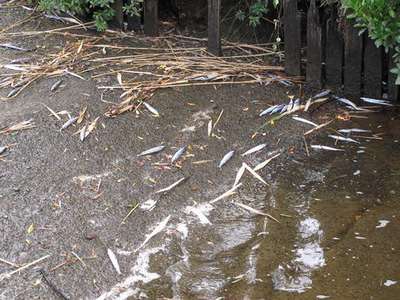 On Tuesday 3/3/2015 reports of a fish kill were given to the IFS. Large numbers of barracouta (Thyrsites atun) were found dead in the stretch of the River Derwent between Norske Skog and the New Norfolk township. Investigations by the IFS and the Derwent Estuary Program have found that thousands of juvenile barracouta approximately 20 cm in length have died over the past three days and the extent of the fish kill has been observed from Lawitta upstream of New Norfolk to below Norske Skog (Boyer).
The fish kill appears to be restricted to barracouta only and as such poor water quality is unlikely to be the cause. The most likely cause is that barracouta have followed the salt wedge with the high tide in the river and killed by their sudden entrapment in freshwater.