Opening of the trout season – Northern opportunities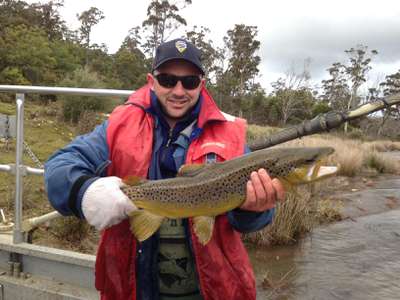 Launceston based anglers and those living in the north of the state have a large range of options within an hour's drive of the city. With the weather looking bleak for the Central Plateau this opening weekend it is worth considering some of the opportunities in lower elevations.
With rivers on the rise there will be a lot of opportunities for anglers fishing the Macquarie, Meander, St. Patricks and South Esk rivers. Fishing these rivers whilst they are rising and spilling over the banks can be very productive early in the trout season. Casting a fly, soft plastic or worms to trout as they forage over newly flooded ground can be very exciting and rewarding.
There are good access opportunities on some of these rivers and the IFS have a brochure that shows Angler Access points for the Macquarie and Lake rivers. http://www.ifs.tas.gov.au/publications/macquarie-and-lake-rivers-angler-access-brochure. The South Esk has a good reputation for this time of fishing as well and popular access points can be found at Longford, Evandale and Hadspen. An Angler Access project is underway for this river with a brochure available later in the year.
Meander River is controlled by the dam in its' upper reaches for Huntsman Lake and is less of a chance of flooding. This river will be safer for wading anglers. An Angler Access brochure for this river is also available. http://www.ifs.tas.gov.au/publications/meander-river-angler-access-brochure
Brumbies Creek at Cressy provides for some excellent fly fishing as well as catering for other methods. This should be well worth a visit and an Angler Access brochure can also be found on the IFS website. http://www.ifs.tas.gov.au/publications/brumbys-creek-angler-access-brochure
The larger lakes west and south of Launceston provide a mix of fishing possibilities. Brushy Lagoon is routinely stocked with Atlantic salmon from commercial hatcheries and this winter received a number of stockings of fish ranging from 1 kg through to 4.5 kg. There were 850 salmon stocked there between April and July and with the occasional resident brown trout found there as well it could be the place to go if you are after a big fish.
Close to Brushy Lagoon, Four Springs Lake offers very good early season fishing for good sized brown and rainbow trout with the average size being around 1.5 kg. There were 4,250 brown trout transferred from highland spawning runs this year which would have grown in their new productive home over the last couple of months. Both Brushy and Four Springs have a five fish bag limit with only two fish over 500 mm permitted to be taken.
Huntsman Lake like Brushy Lagoon is open to fishing all year, a gate at the main entrance will be open from 6 am to 6 pm. The lake level has been rapidly rising recently and should have flooded margins for the opening of the season. This is a productive lake with smaller brown trout on offer. Fishing can be good for trolling anglers and when the lake floods over the grassy banks can offer some exceptional fly fishing opportunities. An Angler Access brochure is available on the IFS website that covers Brushy Lagoon, Four Springs and Huntsman lakes. http://www.ifs.tas.gov.au/publications/huntsman-brushy-four-springs-brochure
To the east of Launceston there is also a good selection of lakes. Lake Leake to the southeast has fished well the last few seasons especially for rainbow trout. Caution needs to be exercised when boating here at present due to low lake levels. A bit further south but still in reach for anglers wishing to travel a bit further Tooms Lake can be found. The current low levels dictate the same caution for boating anglers as Lake Leake, but the current size of trout there, as discovered in a recent IFS survey, may inspire some to give it a go. Trout up to 4.5 kg were captured and released during this survey. An Angler Access brochure for Lake Leake and Tooms Lake is also available. http://www.ifs.tas.gov.au/publications/lake-leake-tooms-brochure
Curries River Reservoir and the lakes of Waterhouse Reserve (Blackmans Lagoon, Little Waterhouse and Big Waterhouse lakes) are to the north and northeast of Launceston respectively. Curries has a good resident population of brown trout and offers good fishing for galaxias feeders which should be active at this time of year. The lake can be accessed by boat but only electric or manual propulsion is permitted at this domestic water supply. Blackman Lagoon is the pick of the Waterhouse Reserve lakes but the recent stocking of 300 gram rainbow trout should provide some good fishing in all three of these waters.