Opening of the trout season – Southern opportunities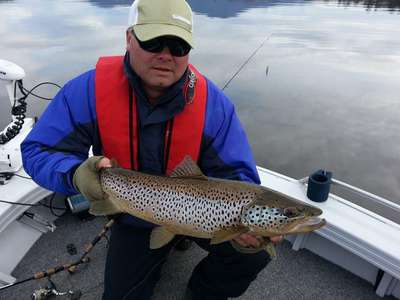 With the brown trout season opening on Saturday 1 August there are plenty of opportunities for southern anglers that do not want to venture too far.
The River Derwent always fishes well in the early months of the season and with the work undertaken through the recent Angler Access Program a lot more opportunities for shore based fishing have been opened up. The access brochure for this river can be found at www.ifs.tas.gov.au/publications/river-derwent-angler-access-brochure
The Huon River is another that fishes well early in the season and regularly produces large trout. As the whitebait move up the river visual fishing can be very exciting. www.ifs.tas.gov.au/publications/huon-river-angler-access-brochure-1
Despite no hatchery salmon or rainbow trout being available at present Craigbourne Dam was stocked with 2150 adult brown trout from the central highlands. These fish should provide challenging sport. www.ifs.tas.gov.au/publications/craigbourne-dam-brochure
For those that would like to venture further afield the Brady's Chain of lakes has also received 5400 adult brown trout. There are lovely camp sites and lots of good access points around these waters. www.ifs.tas.gov.au/publications/bradys-binney-tungatinah-brochure
And if you are looking for a trophy trout a visit to Lake Crescent in the early part of the season would be worth a try. Last season saw some huge fish up to 8kg being caught and this year they will be bigger! This water has received 2030 adult brown trout from the highlands and some more are planned to go in before the season opens. Weather permitting.www.ifs.tas.gov.au/publications/lake-crescent-angler-access-fact-sheet
Another water where good conditioned trout can be caught is Tooms Lake. Despite the water being at a low level indications from a recent survey are that some great fish will be caught in this lake. The recent stocking of 3850 adult brown trout will just make it that much better.
Lake Dulverton has seen 585 adult brown trout stocked into over the winter and with a reasonable early season water levels should provide some exciting fishing before the aquatic plants limit opportunities. This is a water that is known for growing big fish and with the stocking program over the last few years there must be some big fish already lurking in there.
There are lots of other rivers and lakes that will be worth a look. Tight Lines!