Devonport Angling Club junior angling development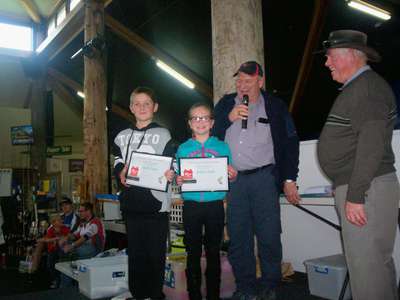 On Saturday 25 July 2015 the Devonport Angling Club held its presentation day for the juvenile anglers that had participated in the 2014/2015 Taylors Dam junior fishing days. Inland Fisheries Officer Paul Middleton was in attendance, along with major sponsors Justin Gossage from Rays Outdoors Devonport and Bradley Finlayson from Tasmanian Eel Exporters. Over 30 prizes were awarded, with thousands of dollars in fishing equipment awarded to junior anglers in categories ranging from heaviest fish, through to perfect attendance and encouragement awards.
Immense credit must go to the volunteers from the Devonport Angling Club who work tirelessly to organise and conduct the monthly junior fishing days at Taylors Dam in Latrobe. They donate their time not only on event days, but also regularly work to improve the facilities at the dam and perform many other tasks behind the scenes. Without their hard work, these junior fishing days that are enjoyed by hundreds of junior anglers each year, would not happen. The club is currently inviting junior anglers to register for the 2015/2016 angling season, with fishing days planned for the second Sunday in each month, on following dates:
August 9 2015
September 13 2015
October 11 2015
November 8 2015
December 13 2015
January 10 2016
February 14 2016
March 13 2016
April 10 2016
Contact Peter Moloney (President of Devonport Angling Club) on 0419 871 131 for further details, otherwise arrive at least half an hour early to Taylors Dam in Latrobe (Opposite Anvers Chocolates) on Sunday August 9th to allow time for registration before the fishing commences at 10am!
The Devonport Angling Clubs Members would like to thank the following businesses for their ongoing support of the junior fishing days:
Rays Outdoors Devonport (Major Sponsor)
Tasmanian Eel Exporters (Major Sponsor)
Inland Fisheries Service (Major Sponsor)
Devonport Boat and Tackle
Tassie Tackle and Outdoor
Holiday Crafts
Inland Fisheries Service, in conjunction with the states' commercial hatcheries continue to support these junior angling days by stocking Taylors Dam in Latrobe with adult Atlantic salmon and rainbow trout.