The new anglers access at Talbots Lagoon is already paying great dividends to anglers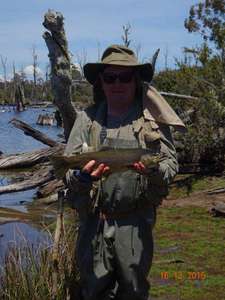 There have been stories of some fantastic fish caught over the weekend and early this week, with anglers making the most of the improved tracks around the lake and interpretive signage. One of our Fisheries Officers Paul Middleton was there talking to anglers yesterday and helped Bob French land this quality 2.5lb fish.
The beautiful early summer weather has seen fly anglers chasing fish feeding on duns, red spinner and damselflies, along with some great polaroid fishing. The lake also has plenty to offer spin and bait fishermen, who will do well by focussing their efforts along the deeper shores, particularly in rougher weather conditions. For those that haven't fished this water before, Talbots Lagoon is renowned for well-conditioned and extremely hard fighting fish, but it can also be a very tough water so very large bags of fish are uncommon. A great challenge for anglers with some awesome rewards on offer!
When fishing there please remember that fishing in this water has been made possible by the goodwill of the land owner Forico, and that access is indeed a privilege and not a right. We urge all anglers to make themselves aware of all regulations before going on a fishing trip to this water.
Angling is open to all methods, but restricted to the time between 1 hour before sunrise and 3 hours after sunset. The bag limit is a total of five fish with the minimum size being 300mm, and only two fish over 500mm allowed to be taken per day.
Vehicle access to the lake shore is not permitted, so anglers are required to park in the designated car parking areas and walk the final few hundred meters to the lake shore. The areas surrounding the lagoon are working forests, so please be aware that heavy vehicles such as log truck are frequently using the roads.
Camping around the lake, including in the car parking areas is strictly prohibited, as is the lighting of fires. There is good camping at nearby on the banks of the Lake Waratah (less than 15 minutes' drive away) in the caravan park run by the council. Here you will find showers, toilets and clothes washing facilities. Further information and booking can be made by calling 6439 7100.