Fantastic late winter weather is perfect for fishing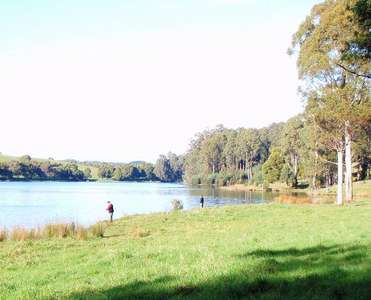 After some pretty challenging conditions over the opening weekend, warm sunshine, calm conditions and moderate flows have now created some perfect angling conditions.  Neil Morrow one of our fisheries officers has reported back that last week at Brumbys Creek and the Pet Dam a broad range of anglers were enjoying a day on the water using lure, bait and fly.
At Pet Dam 76 and 78 year old brothers from Wynyard had their deck chairs set up on the bank in the sun and had a lovely brown trout of approximately 1kg in the bag for the table. A young shift worker from the west coast mines was getting some exercise by actively lure casting and wading.
If you see one of our fisheries officers say hello as they welcome the opportunity to provide information on stocking, fishery performance assessments, relevant regulations, water levels and access so you can get the most out of your time on the water.  They also want to hear your feedback on your angling experiences.
With great anticipation of the season ahead if you haven't already grab your mates, siblings, kids or loved ones for a great day out.  Grab an access brochure and explore and experience some new fishing spots.