Morass Boat Ramp maintenance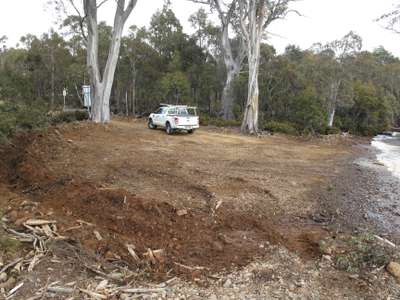 Due to the record high water levels in Arthurs Lake residents and visitors to Morass Bay have found it impossible to launch boats at the public ramp. In response to concerns from local shack owners and anglers the IFS and Hydro Tasmania responded to improve the situation.
The only option available was to create a small turning and launching area at the end of Larner Parade and to install no parking signs to ensure the area is kept clear unless launching or retrieving boats. Parking is available in Nielsen Crescent, a short 50m walk from the launching area. The IFS will monitor water levels and remove the no parking signs when water levels allow. At the same time parking areas were improved at the Dam Wall boat ramp to compensate for the areas now inundated by the lake.