Little Pine Lagoon Lakeside Reserve upgrade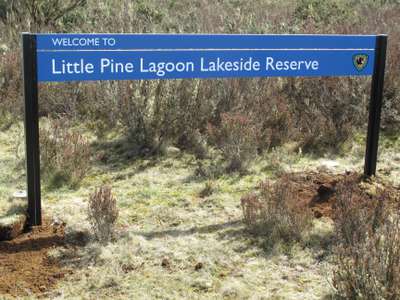 Inland Fisheries Service has assisted Parks and Wildlife Service to install new reserve signage at Little Pine Lagoon.
The signs are in the new Parks blue and white colour palette and replace the old brown timber signs that had reached the end of their lifespan.
The new signs advise visitors of reserve use regulations including fuel stove only* and dogs permitted if under effective control. The signs also identify facilities and areas for specific activities including boat launching, day use only areas, tent camping area and caravan and camper trailer area.
To protect the lagoon environment an area on the road shore (Off the B11 Marlborough Road) has been reclassified from a camping area to a day use only area with all camping, caravans and camper trailer areas consolidated adjacent to the public toilets within the reserve.
The signs reflect a significant investment and ongoing cooperation between the two agencies in managing the reserve areas surrounding this world class fishery that is the most popular fly fishing water in Tasmania.
* fuel stove means a device for cooking that does not –
(a) affect, or interact with, in any way, soil or vegetation; or
(b) use or burn coal, wood, plant material or any other solid fuel;