Lagoon of Islands decommissioned by Hydro Tasmania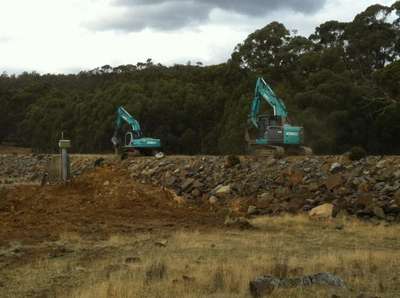 Hydro Tasmania today (30 April 2013) announced work to decommission the dam at Lagoon of Islands in Tasmania's central highlands and rehabilitate the site to a natural state is nearing completion.
Manager Sustainability and Safety Andrew Scanlon said the project is in keeping with Hydro Tasmania's reputation for sustainable water management and environmental leadership.
"This is the first time in our 100-year history that Hydro Tasmania has decommissioned and removed a water storage asset," Mr Scanlon said.
The project involves removing the 320-metre long, six metre high earth wall dam and other associated infrastructure, rehabilitating the site and restoring native vegetation to the area.
Originally a unique ecosystem characterised by floating islands of vegetation, Lagoon of Islands was flooded in 1964 to provide water to downstream irrigators along the Ouse River.
The demand for water increased rapidly and in 1984 Ripple Canal was constructed to divert more water into the lagoon. Ultimately the Lagoon of Islands scheme has proved to be an unsustainable development with significant and ongoing water quality problems.
The first noticeable adverse change to water quality at Lagoon of Islands was observed in December 1988 when a substantial algal bloom occurred.
Mr Scanlon said Hydro Tasmania explored a number of possible remedial actions to improve ecosystem health and introduced a change to the water management regime. Water quality improved for a few years and then started to deteriorate again. Conditions worsened substantially during the recent drought in Tasmania.
"During the drought, encouraging improvements were observed in the vegetation suggesting the wetland would recover if natural ecological processes could be restored," Mr Scanlon said. "The water was no longer used for its intended purpose and, as a result, Lagoon of Islands was an unused asset with the irrigation needs now met from Great Lake.
"Decommissioning the dam and rehabilitating Lagoon of Islands are accepted as the best means of achieving an environmentally acceptable solution, returning it to a natural, healthy and self-sustaining state.
"Some minor works have already been undertaken, including the decommissioning of the Ripple Canal and the construction of bunds in the remaining canal to reduce the flow of nutrients and the speed of water flows.
"The remaining actions from the rehabilitation plan include removal of the dam, active rehabilitation of the dam footprint, including reseeding and planting with natural vegetation.  This work has commenced and will be completed by the end of May."
Mr Scanlon said Hydro Tasmania had relied on advice from an expert panel with leading scientific support to guide the planning and the long-term rehabilitation of the site. The project also has the support of neighbouring landowners and farmers downstream.
A comprehensive monitoring program is being implemented to collect baseline data and track the progress of the lagoon's recovery.  This will involve monitoring of key water quality parameters, vegetation community, invertebrates, weeds and algae.
For more information please contact Andrew Scanlon on 0418 141 898
Supplied by Hydro Tasmania website