MAST has recently completed the upgrade of the camping ground boat ramp on Lake Burbury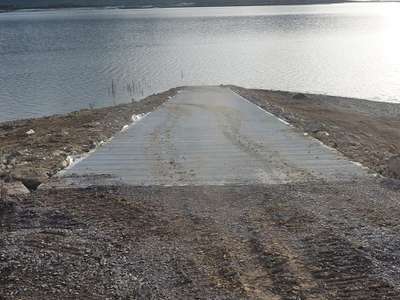 Taking advantage of the recent low level of the lake, the new 64 metre long ramp will aid the launching and retrieving of trailer boats down to a level of 7.00 metres below full supply.

The single lane, 5.00 metre wide ramp will be a lot more user friendly now the undesirable "right hand turn" which occurred about half way down the old ramp has been removed. To achieve this and to ensure the new ramp was established on solid ground, required the alignment to be offset by 17 degrees from the access road. This is well above full supply level and will always be visible, so there will be no nasty surprises for users down the ramp as the lake level fluctuates.

Lake Burbury open to angling all year round so now is a great time to use the new ramp and catch one of the hard fighting rainbow trout.