Mersey River Anglers Access project well underway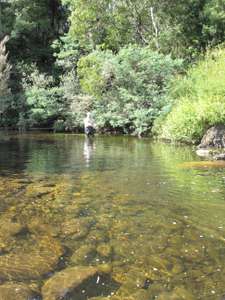 Following months of negotiations with landowners and extensive property surveys installation work on the Mersey River Anglers Access project is well advanced. This project - the eighth river access project to date -  has been made possible with a grant from the Tasmanian Community Fund and the oversight of Anglers Alliance Tasmania. Project Manager Neil Morrow reports that the Mersey River will likely be the most comprehensive access project undertaken when completed in time for the 2013/14 angling season. 'With access at key locations throughout the catchment from the mouth of the river at Bells Parade in Latrobe to Lake Parangana there will be enough variety to cater for all methods of angling throughout the season.' Of course this project would not be possible without the generous support and cooperation of landowners and the Latrobe, Kentish and Meander Valley Councils.
Anglers will notice signs, stiles and other access infrastructure has been installed around the Latrobe, Warrawee, Merseylea and Kimberley areas in recent weeks and will continue until the end of March. The Anglers Access brochure and map will be published and available in July. The project team reports seeing good fish at many of the access locations!