Carp Team prepare for the upcoming spawning season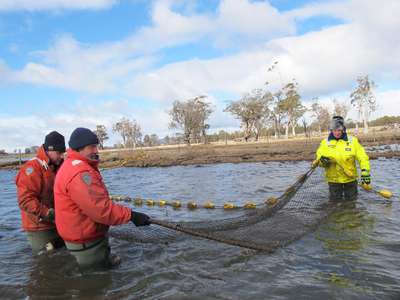 Despite cold conditions the Carp Management Team has been busy preparing for the oncoming carp spawning season that can commence anytime from October onwards through the warmer months. Once mature, carp are stimulated to spawn by warming water and rising lake levels. They are attracted into flooded wetlands that provide the ideal conditions for their adhesive eggs to attach to the aquatic plants and hatch in the security of this habitat.
The Carp Program has over 14 kilometres of barrier netting installed around the marshes of the lake to prevent carp from accessing the shallow marshes. Each year prior to the spawning season these barrier nets are checked meticulously both on foot and by boat, as any breach in the net could potentially result in unwanted spawning activity. In the coming weeks traps will be set in the barriers at key access points to catch carp as they attempt to breach containment lines.