Easter Compliance Activities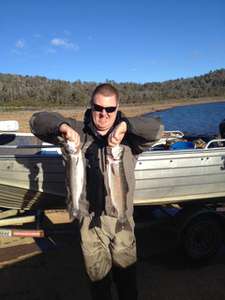 Many waters were checked throughout the period with catch rates below average due to poor weather conditions. The standout water was Great Lake. Good numbers of well conditioned rainbow and brown trout up to 1.8 kg were caught by anglers prepared to put in the time on this water.
Several offences were detected throughout the period and infringement notices and cautions were issued for fishing without licences, unattended set rods and fishing with too many rods.
Pleasing for Fisheries Officers is the improving attitude towards the wearing of PFDs on vessels in inland waters. No offences were detected for the Easter period for failing to wear a PFD on a vessel under 6 meters, and it seems that the safety message is getting through in regard to this important issue.