Tyenna River Anglers Access completed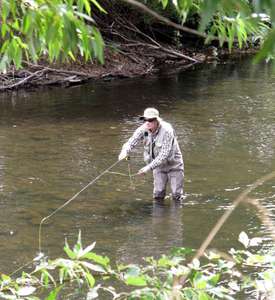 The Tyenna River between Westerway and Maydena in Tasmania's south enjoys a reputation as one of the State's premier trout fishing rivers. The Tyenna is regularly in the top 10 most popular river fisheries in the state and enjoys a high catch rate.
The Inland Fisheries Service (IFS) and Anglers Alliance Tasmania have completed an Anglers Access project on the Tyenna River in time for the opening of the 2012/13 angling season that will enhance this reputation. The project follows successful projects completed on the Meander River, Huon River, River Leven, Brumbys Creek and the Lake and Macquarie rivers.
The Tyenna River is renowned for its large head of fish, consistent flows, beautiful surroundings and challenging angling. The river also has a reputation as big fish water with several trophy fish taken each season. The trout population is dominated by browns with a sprinkling of rainbows and even the occasional Atlantic salmon.
The Anglers Access project has involved landowners, anglers, Parks and Wildlife Service, Forestry Tasmania and Norske Skog Paper Mill in improving foot access to the river up and downstream from existing bridges and river crossings through negotiated agreements, improved riparian management and installation of appropriate infrastructure such as stiles over fences, footbridges, tracks, steps, gates and information and warning signs.
A brochure and map have been published that will be available from major tackle shops prior to the commencement of the season or via the IFS website as a PDF file.
Funding from the Department of Agriculture Fisheries and Forestry Recreational Fishing Community Grants Program, and in kind support from Inland Fisheries Service made the project possible.
The project has involved the installation of over 25 fence stiles and crossings, electric fence insulators, warning and information signs, steps, gates, paths and tracks between Meadowbank Road and Maydena. Over 25 access points covering 25km of river frontage have been identified.
Due to the thick vegetation along both sides of much of the river wading will significantly improve angling options however caution is required as large boulders in the river are extremely slippery. All methods of angling, bait, lure and fly, will be rewarded however anglers are reminded that bait fishing is not permitted in the Mt. Field National Park section of the river.