Butlers Gorge Road (Lake King William) weekday temporary closure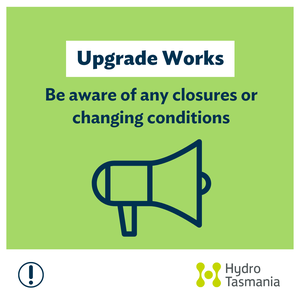 Update on the Tarraleah hydropower scheme
Hydro Tasmania is well underway with upgrade projects on the Tarraleah hydropower scheme. These are important upgrades on a scheme that has delivered clean energy to Tasmania for 85 years and is now having its future reimagined as the energy market transitions to low emissions sources.
Work is progressing on construction of a new water intake at Lake King William. A new phase of activity for the connecting tunnel has started and there will be increased heavy vehicle activity on the road.
For public safety, Butlers Gorge Road (from the Lyell Highway turnoff) will be closed on weekdays from Monday 26 June 2023 until 4 August 2023 between 7am and 5pm.
The lookout and boat ramp are accessible outside of these closure times and also on weekends. Hydro Tasmania expects to restore full access to these areas in time for the start of the fishing season.
Hydro Tasmania has set up a Tarraleah project site - https://connect.hydro.com.au/reimagining-tarraleah - to find more about the project and upcoming upgrade works, ask questions and subscribe to updates as the project progresses.