Brown trout opening weekend report 2022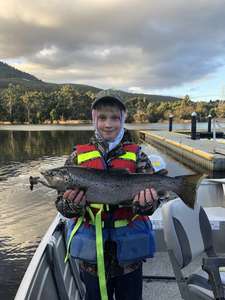 The 2022-23 brown trout season kicked off over the weekend. Thousands of anglers took to waters around the state to celebrate the most anticipated trout fishing day of the year. Recent rainfall ensured good fishing conditions, and this was reflected in angler catches.
Nine teams of Inland Fisheries, Parks and Wildlife, Marine and Safety Tasmania and Tasmania Police were on patrol around the State. 875 angler inspections were conducted, along with 65 boating safety inspections.
The fishing was generally fantastic!
In the central highlands, large numbers of fish were caught by anglers at Bronte Lagoon, Brady's chain and Pine Tier Lagoon, with lures and baits accounting for the majority of fish. Good numbers of fish were also taken on wet flies from Penstock lagoon and at Little Pine lagoon, in the flooded edges, the fishing was fantastic.
There were a steady stream of anglers at Four Springs Lake and they were not disappointed. All methods of fishing were worked with good catches of brown and rainbow trout.
At Curries River Dam in the north east the fishing was good. Anglers reported rainbow trout taking Powerbait very well, whilst plenty of brown trout were taken by lure anglers. Big Waterhouse Lake also fished well with quality large brown trout reported by anglers fishing there on Saturday morning.
In the north west the best water was South Riana Dam. Good catches of 1-3Kg brown trout were taken by anglers using worms for bait and soft plastics. Plenty of brown trout were also taken from flooded margins of the Mersey and Leven rivers.
In the south some nice fish were taken from the Derwent and Huon Rivers, whilst on the east coast Lake Leake fished well on Saturday afternoon.
There is plenty to be excited about for the upcoming season after such a great start. In addition, all 50 tagged fish from this year's promotion are still swimming around. Combined with the 42 still at large from last year there is $184,000 still to be won. What more reason do you need to go trout fishing this season!