Another amazing brown trout opening weekend behind us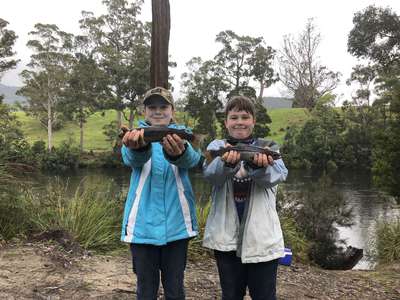 Brown trout season 2021-22 kicked off over the weekend and what a weekend it was! The weather good (considering it is the Tasmanian Winter!) and the fish were biting well. Strong winter rains have ensured that our inland waterways are all at good high levels and this was reflected in the quality of the fishing.
Officers from the Inland Fisheries Service, Tasmania Police, Parks and Wildlife and Marine and Safety Tasmania teamed up state-wide. This was one of the largest multi-agency operations ever run over a Brown trout season opening weekend, culminating with a traffic operation in the Central Highlands organised by Tasmania Police.
Results from the patrols over the weekend include
Catch data from 51 inland waters was collected
821 anglers were interviewed about their fishing experience
479 Brown trout, 205 rainbow trout and 3 Atlantic salmon inspected
350 vehicles were stopped and checked
Multiple camps were visited on Parks, Hydro and Council managed land
Over the weekend offences were detected and dealt with under Inland Fisheries, Marine and Safety, Parks, Road Safety, Transport and Firearms Legislation. This represents a very successful multi agency approach to the opening of the brown trout season and Inland Fisheries would like to thank the other agencies for their support.