Camden Dam is filling and nearly spilling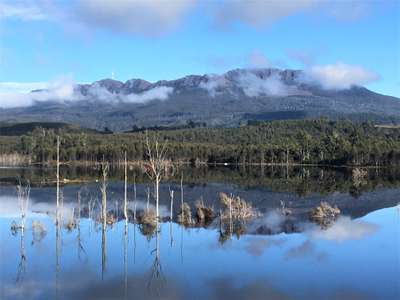 Camden Dam, completed by Tasmanian Irrigation in 2019, is almost full and should spill before the start of the 2020-21 season.
The flooded edges will provide a food resource for the resident population of brown and rainbow trout and the fishing will hold some surprises for anglers during the 2020-21 season.
Situated east of Targa with the lovely backdrop of Mt. Barrow, Camden Dam provides an exciting new opportunity for anglers. From the public car park on the eastern shore at Diddleum Road there is good access for shore based angling. Canoes and kayaks are permitted and launching from the car park will provide access to the western and southern bays. While you are there check out the St. Patricks River at nearby East Diddleum Road.