October to December 2017 Carp Management Program Quarterly Report
Published on Feb. 9, 2018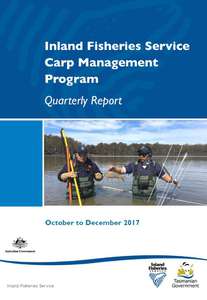 The October to December 2017 Carp Management Program (CMP) Quarterly Report has now been completed, and is available for public access at the link below.
Find out the latest news on the 2017-18 season with the Carp Management Program, and how the battle with carp in Lake Sorell is progressing.
Read about the current carp eradication techniques/strategies and how they will change as the season progresses.
So far the results look promising and the CMP is getting closer and closer to achieving their goal of complete eradication!