South Esk Angler Access project completed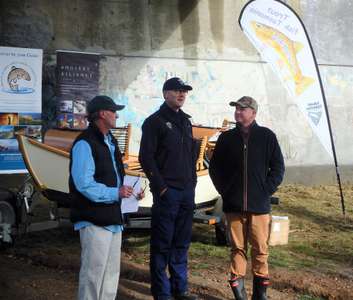 On Saturday 5 August, to coincide with the start of the brown trout season, the Minister for Inland Fisheries, Jeremy Rockliff officially launched the South Esk River Anglers Access project on the riverbank at Hadspen. This is the 10th river access project completed by Anglers Alliance Tasmania (AAT) and Inland Fisheries Service (IFS).
Since 2007, over 300 km of rivers reaches across Tasmania have benefitted from Anglers Access projects.
The South Esk River Anglers Access Project would not have been possible without a grant of $66 000 from the Tasmanian Community Fund to AAT with matching funding provided by the IFS.
Crucial to the success of the project is the participation of 18 private landowners who agreed to allow access to the river adjacent to their properties. The Anglers Access Program provides landowners with appropriate infrastructure, increased surveillance and improved risk management.
The South Esk is a highly regarded brown trout fishery and is the third most popular river fishery in Tasmania with over 2000 anglers fishing it during the 2016-17 season.
The project has provided improved access to approximately 40 km of river frontage on both private and public land. This involved the construction of parking areas, gates, steps and paths to facilitate access to the river.
The project has involved the installation of 30 fence stiles and fence crossings, insulation and signing of dozens of electric fences, and over 50 warning and information signs.
A number of canoe launch sites, identified provide a fantastic new opportunity for anglers. These sites will also be available to the guiding industry enhancing the guided fishing experience and tourism.
The completion of the Angler Access project will further increase the popularity of the river with local, intrastate and interstate anglers. It will aid the dispersal of anglers throughout the catchment and improve the fishing experience.
The combination of the South Esk River, the Meander River, Brumbys Creek and the Macquarie River creates a significant angling attraction in the central north of Tasmania. This will benefit regional economies and communities.
A full colour brochure containing angling regulations, access rules, fishing information and high quality maps of the access area is now available through tackle shops, Visitor Information centres at Deloraine, Evandale and Longford and via the IFS and Anglers Alliance Tasmania websites.