Delicious dishes at Trout Weekend 2016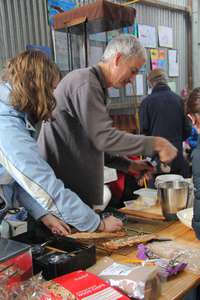 Ever been stuck for a way to cook trout? Come along to Trout Weekend 2016 (at Liawenee on 21 & 22 May) to discover (and taste!) some delicious ways to prepare your catch. All demonstrations are free.
Chef Christina Sharpe will be showing you how to whip up:
Barbecued newspaper trout
Cider cured trout
Trout cakes
How about eel? Ever been curious, but a bit unsure, about how to cook eel? Now is your chance to learn when Christina prepares a dish called Anguilla livernese (eel with olive, chilli and capers).
Cooking demonstrations will happen at 11am, 12 noon, 1pm and 2pm each day (one dish per session). Following each demonstration there will be free tastings for 30 people.  To secure your tasting, pick up a free ticket from Inland Fisheries Service staff at the entrance to Trout Weekend.
Keen angler and experienced fish smoker, Michael Wood, will be demonstrating how to smoke your own trout at 10.30am, 11.30am, 12.30pm and 1.30pm daily. Michael will share his tips and tricks plus ways to serve smoked trout and tastings of his delicious dip.
For more information about Trout Weekend 2016 go to click here.