Calling all junior anglers.......come & try catching a tagged trout and win a prize at Trout Weekend 2015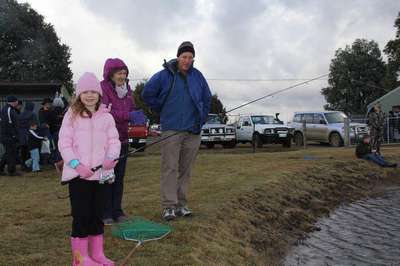 The junior angling pond (which is open to all anglers under 14 years old) is always a very popular attraction at the annual IFS Trout Weekend event. Junior anglers, assisted by their parents and Fishcare volunteers, can try their luck to catch a trout. If they do catch a fish they can then choose to release it or take it home for dinner. Adding to the excitement this year, will be six tagged fish. If a junior angler is lucky enough to catch a tagged fish they will win a prize generously donated by 42 Degrees Real Estate. So, junior anglers why not come & try your luck at Trout Weekend, 16 & 17 May 2015?
To find out more about Trout Weekend 2015 click here.