Big trout caught in Lake Crescent survey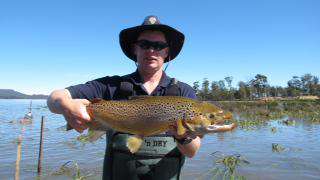 The recent juvenile carp surveys conducted at Lake Crescent resulted in large, well-conditioned brown and rainbow trout being caught. Brown and rainbow trout up to 10 and 6 pound were caught along the marsh edges in small fyke nets. These trout were in top condition and well within the range of both land-based and boat fishermen looking to bag a trophy.
With the trout season drawing to an end in one months' time, now is the time to get out there to latch onto one of these monsters. Fish up to 8 kg in weight were seen earlier this year in another survey and the chances are that there are even bigger fish swimming about in this highly productive system. Lake Crescent is open an hour before sunrise to an hour after sunset, and the use of artificial lures and flies are permitted. The minimum size limit is 220mm and a total maximum daily bag limit of 5 fish.