Salmon Donated by Tassal for New Norfolk Junior Anglers Day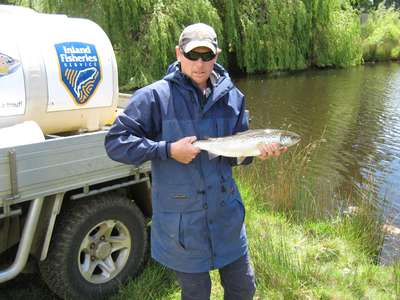 Tassal kindly donated 30 well conditioned Atlantic salmon this week for the New Norfolk Angling Club's 'Junior Anglers Fishing Day'. The event will be held this Sunday 13 November at the club's designated junior angling water, known as the Duck Pond, near Bushy Park.
The donation by Tassal was made in response to a last minute request from the Inland Fisheries Service to help provide catchable fish for the event, which is aimed at teaching young people about fishing. The Service also supplied 50 brook trout from its brood stock at the Salmon Ponds. All the fish weighed around 1.5-2 kg and will provide excellent sport for the junior anglers.
Justin Causby, Secretary for the New Norfolk Anglers, thanked Tassal and the Service for their contribution, saying how keen the Club had been to get enough fish in the water to make the day a success and how much the kids would love it.
"The kids are our future and getting them into fishing at a young age is a great benefit – to them, their families and the community," said Mr Causby.
"I'm sure we'll see many smiling faces on Sunday, and they'll belong to the parents as well as the kids!" he said.
Mr Causby said that the New Norfolk Anglers Club hosts junior angling events fairly regularly to encourage its young membership. Sunday's event would be aimed specifically at teaching the kids more about fishing with lures and soft plastics, how to set up their gear, and how to cast and retrieve.
"These events are a great way to get the whole family involved, even when mum and dad don't know much about catching fish," he said.
"New members are welcome to come along to the event which will run from 11 am to 2 pm. The Club will host a barbeque for the kids and the cost of junior membership at the Club is $5, which is basically to cover insurance," said Mr Causby.
Anyone interested in finding out more should phone Justin Causby on 0439 737 144.